WHY HOMES NEPAL?
In stating why we are here we would first like to recognize the great number of individuals and organizations doing fantastic work to move our country forward in many ways. We appreciate all that you are doing!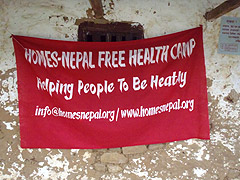 The reason that we are here though is simple THE JOB IS NOT BEING DONE. In spite of the best efforts of many there are still so many issues in our country that we feel compelled to take matters into our own hands. For decades the Bishnumati River has been abused and for generations the poor and disempowered have suffered. We are working to a long term plan to improve the state of affairs in Nepal. Our work is focused on addressing problems that everyone else has consistently failed to resolve. We will see Nepal flourish and grow.
We have amongst our team a range of different experience which includes but is by no means limited to; Project Management, Environmental Protection, Education, Sociology, Social Enterprise, Administration, Law, Social Work, Tourism, Policy and much more… It's these key skills and experiences that we use from day to day as we work.