Earthquake Response - HOMES and Food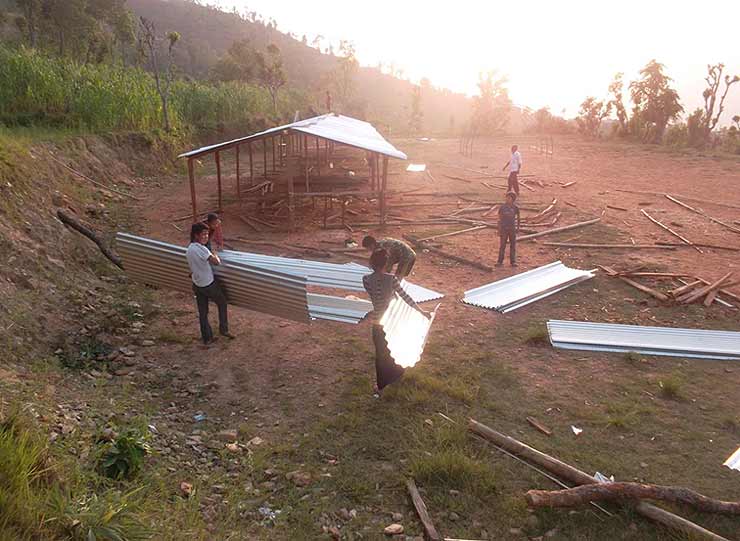 On 25th April 2015 a powerful earthquake hit the beautiful country we love. In the aftermath HOMES Nepal mobilised and has been working with key partner Langtang Ri to provide assistance to those worst affected by the disaster.
"We cannot sit and do nothing, making sure only that our family and friends are ok, rebuilding our personal homes and offices. We must gather our strength, mobilise our partners and organise for the victimised people of this terrible time." says HOMES Nepal's CEO, Badri Paudel.
We have been providing food and shelter to individuals, families, schools and hospitals around the epicentre and following the second earthquake on 12th May we expanded our operations to cover the newly affected areas. As we write this, we have provided emergency support in over 30 villages and for over 500 people.
In our early years as an NGO we offered homes to those taking part in our projects and supported them to live a better standard of life - now we are working with those who have had their homes and lifestyles destroyed. Drawing a Disaster Management Team of 40 staff and volunteers HOMES & Langtang Ri have gone back to the basics that underline our name. Housing. And one other essential, food.
"We are made homless by the earthquake and currently can not affort the tempory shelter materials and relief materials, due to our financial weakness. Thank you so much HOMES Nepal to saving our family from current rainny weather." Dal Bahadur Shrestha, Age- 73, Kalimati, Rasuwa
Many problems were created when the ground shook; destroying buildings, paths, equipment, storage, irrigation systems and of course taking many lives. Now as the seasonal rains pour down families must focus on staying dry and having enough to eat.
Great stocks of farmland have been destroyed. And as people have lost their lives or sustained injuries, families may not be able to farm the land and maximise the crops they depend upon. In villages in the regions of Gorkha, Dolkha, Nuwakot, Sindhupalchok, Dhading and Kathmandu we have spoken to local people and understand the issues they face. We are working with partners in UK, Netherlands and USA at more long terms solutions but for now we are going to these areas and distributing materials for shelter including tents and tin sheets as well as rice, beaten rice, noodles, cooking oil, salt, sugar and some basic spices.
The people in affected areas have been through horrific trauma and we cannot underestimate the damage that this has caused in the hearts and minds of so many thousands of people. But Nepalis are resilient and strong.
Never forgetting our focus on education for sustainable development - in our next phase we plan to reconstruct the school building of Phujel VDC in Gorkha. This essential service supports 1,200 students most of which belong to lower castes and marginalized ethnic groups. Education cannot be sacrificed in the years of rebuilding that follow.
Thanks as always to our donors and supporters and thanks to the Nepali people. Namaste.