EDUCATIONAL SUPPORT
INTRODUCTION
It has long been a recognised fact that access to education is one of the key determinants in the living standards of people the world over. This program is asking for a total of $52,500 USD in year one or a total of $262,500 over 5 years in order to support 100 students from Kathmandu and rural Nepal complete the education they would not otherwise be able to afford.
HOMES-NEPAL BACKGROUND
TH June 2007 under the Organisation Registration Act 2034 B.S. (1977) and affiliated to Social Welfare Council registration number (22540) on 14th June 2007.
The activities of HOMES-Nepal cover a broad remit including work to support; education, environmental conservation, health, sanitation, and skill development. Our work is targeted at the poorest communities and in certain cases specifically supports; women, children, orphans, lower castes, the homeless and other marginalised and disempowered peoples within Nepal.
In addition, our programs seek to constantly develop the Nepali people, empowering and building capacity, challenging negative stereotypes and reinforcing positive beliefs and behaviours. As we continue our mission we are seeking to nurture future leaders of the country by giving them the platform to work for the community. We have a clear understanding that only healthy, empowered, responsible people can ensure the overall development of the country.
PROGRAM GOAL
To support 100 children through education in order to raise their abilities, aspirations and life chances.
PROGRAM DURATION
This program is broken up into 12 month academic years, starting in April 2014 and running from one to five years.
BACKGROUND OF EDUCATION IN NEPAL
While the education system has come a long way in Nepal in recent years there is still a long way to go and the country lags far behind the modern standard internationally. The government is endeavouring to build public schools geographically available to all where tuition is free. However other school costs still preclude many students from attending. In addition there is a significant disparity between the 'free' public schools and the more common fee paying private schools with regards to the standard of education - private schools consistently offering a higher standard of education.
At age 15-16 (Grade 10) the major exam is the School Leaving Certificate (SLC). The average pass rate is between 40-60% with private schools again outperforming public. The success of a young person in achieving the SLC frequently has wide reaching effects on the rest of their life in particular; future study, employment opportunities and marriage prospects (arranged marriages are very common and families match and negotiate considering current and future prospects, amongst other factors).
Although Nepal's literacy rate has risen dramatically since 1950 from just 5% to 66% in 2011, its female literacy rate remains at just 57%. Net primary school enrolment now stands at 90%; however, more than half of Nepali children do not enter secondary school. One-half more do not complete secondary education, resulting in a net enrolment rate of just 24% for classes 9-12. Coupled with more than two million Nepali workers seeking work abroad, or nearly 8% of the population, Nepal suffers from a severe shortage of skilled labour.
Nepal is still lagging behind the rest of the world. It is the children who would be bringing down national performance statistics by not entering or completing their education that are targeted by our program.
STUDENT TARGETING
The program targets children from families unable to afford the costs of education. In many cases families also do not understand and value education as a priority. They are selected from inside Kathmandu and also from some of the poorer rural areas. Children are frequently from the most marginalised groups within the community which to this day still has a disproportionately high number of people of lower castes as well as orphans and those with disabilities. Many students have suffered due to the level of civil unrest and changing political circumstances which over the last 15 years in particular have devastated some communities. The program particularly targets students who show significant potential to achieve in education and have the potential to progress to higher education, as these students are likely to be able to maximise their educational opportunity. Education has often been called the 'Silver Bullet' in overcoming poverty this program ensures that the silver bullet not only helps those directly who go to school but it also engenders within these individuals a sense of social responsibility and the desire to help those less fortunate than themselves.
PAST RESULTS
We are extremely proud of the success rate of the program. Since 2008 when our student support started 100% of students involved have completed their studies either being promoted to higher level classes or successfully completing their education.
HOMES-Nepal recently undertook a trip to the Good Start Academy, a Kathmandu school we support, to check in with some of the students. The majority are top or very near the top of their classes. When asked what she wanted to be in the future Prakriti Katawal said she wanted to be a lawyer. With a big grin, Hemanta Pathak said he wanted to be a doctor. Kanchan Chhantyal one of the younger children said "without the help of HOMES-Nepal my studies would be finish". One of the quietest students (and an orphan) Sujan Ral said that he knew that HOMES-Nepal was helping him go to school and he was "…very thankful." At the end of the interviews (and with a little encouragement from their head teacher) the whole group said "Thank you HOMES-Nepal, we are very happy with you"
A modest growth of this program has been ongoing since in 2008 when a total of 50 students were supported. This has risen to its current rate of 55 and we are now looking to achieve more significant increase up to 100 for the academic year 2014.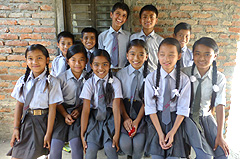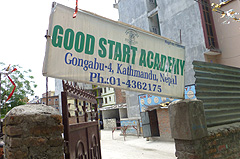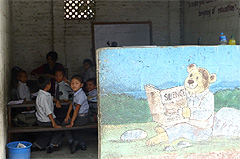 SUSTAINABILTY
The sustainability of any program is an important consideration. In this way HOMES-Nepal is seeking funding for up to five consecutive years to ensure the progression of students through to the completion of their studies. Through various fundraising activities HOMES-Nepal has sustained this program since its inception in 2008. This proposal represents a step forward in delivering increased capacity and sustainability.
PROGRAMME ACTIVITY BUDGET
The implementation of the program is relatively simple – for the cost per student HOMES-Nepal ensures that the essential items required to complete the student's education are provided.
The funds given to supporting each student cover:
Admission fees
Examination fees
Tuition fees
School uniform
School bag
Stationary
One school meal per day
The below table shows the breakdown of costs annually, per child supported:
| | | | |
| --- | --- | --- | --- |
|   | Number | Annual Expense (USD) | Total Expense (USD) |
| Children from Remote Areas | 50 | $400 (2014-15) | $20,000 |
| Children from Kathmandu | 50 | $650 (2014-15) | $32,500 |
|   |   |   | $52,500 (Yr 1 Total) |
| Children from Remote Areas | 50 | $400 (2015-16) | $20,000 |
| Children from Kathmandu | 50 | $650 (2015-16) | $32,500 |
|   |   |   | $52,500 (Yr 2 Total) |
|   |   |   | $105,000 (Yrs 1-2 Total) |
| Children from Remote Areas | 50 | $400 (2016-17) | $20,000 |
| Children from Kathmandu | 50 | $650 (2016-17) | $32,500 |
|   |   |   | $52,500 (Yr 3 Total) |
|   |   |   | $157,500 (Yrs 1-3 Total) |
| Children from Remote Areas | 50 | $400 (2017-18) | $20,000 |
| Children from Kathmandu | 50 | $650 (2017-18) | $32,500 |
|   |   |   | $52,500 (Yr 4 Total) |
|   |   |   | $210,000 (Yrs 1-4 Total) |
| Children from Remote Areas | 50 | $400 (2018-19) | $20,000 |
| Children from Kathmandu | 50 | $650 (2018-19) | $32,500 |
|   |   |   | $52,500 (Yr 5 Total) |
|   |   | GRAND TOTAL | $262,500 (Yrs 1-5 Total) |
The below table shows the projected budget expenditure per child:
| | |
| --- | --- |
| Item | Percentage Cost |
| Student Expenses | 90 % |
| Program Development | 2.5 % |
| Administration | 2.5 % |
| Communication | 2.5 % |
| Transport | 2.5 % |
CONCLUSION
Many people worldwide see access to education as one of the most basic of human rights. The fact that it is denied to a large number of young people who do not have the power to change their situation is unjust and unfortunate in the extreme. This simple program offers the financial support required to ensure that young people are afforded the opportunity to work towards a better future for themselves and those around them. As a small Non-Governmental Organisation we are able to administer this program without large amounts going on overheads and wasted costs. Donation to the program will see 90% of the money go directly to support the students. Thank you for your consideration.